Volunteer Safety Information for COVID-19
When Vermonters need help, Vermonters want to help. While Vermonters are staying home as much as possible to slow the spread of COVID-19, some are stepping up to ensure their neighbors have what they need. This type of community support is crucial, but we need to make sure our helpers and volunteers are still using social distancing practices to protect our most vulnerable vermonters. 
The Vermont Department of Health recommends that if you volunteer:
- Keep a distance of six feet away from those you are helping, and other volunteers.
- Avoid entering the homes of those you are providing services to.
- Wash your hands regularly, avoid touching your face, and cover your cough or sneeze with a tissue, then throw the tissue in the trash.
- If you feel sick or learn that you have had contact with someone who is sick, stop doing volunteer work immediately.
- Keep a list of anyone you come into close contact with in case contact tracing is required.
- Wear clean gloves when handling items that may be given to people with a weaker immune system, and when you are close to someone who may be sick.
These common sense practices can go a long way while Vermonters take care of each other.
Stay up to date at healthvermont.gov/covid19

                                             
Join AmeriCorps Today!
There are over 80,000 opportunities to serve in AmeriCorps each year, and 450 of those opportunities are right here in Vermont! There are opportunities that work for everyone, from full-time year-long service positions, to 300 hour positions over the summer or during the school year. Learn more about serving in AmeriCorps in Vermont and find an opportunity for you by visiting our AmeriCorps State Programs.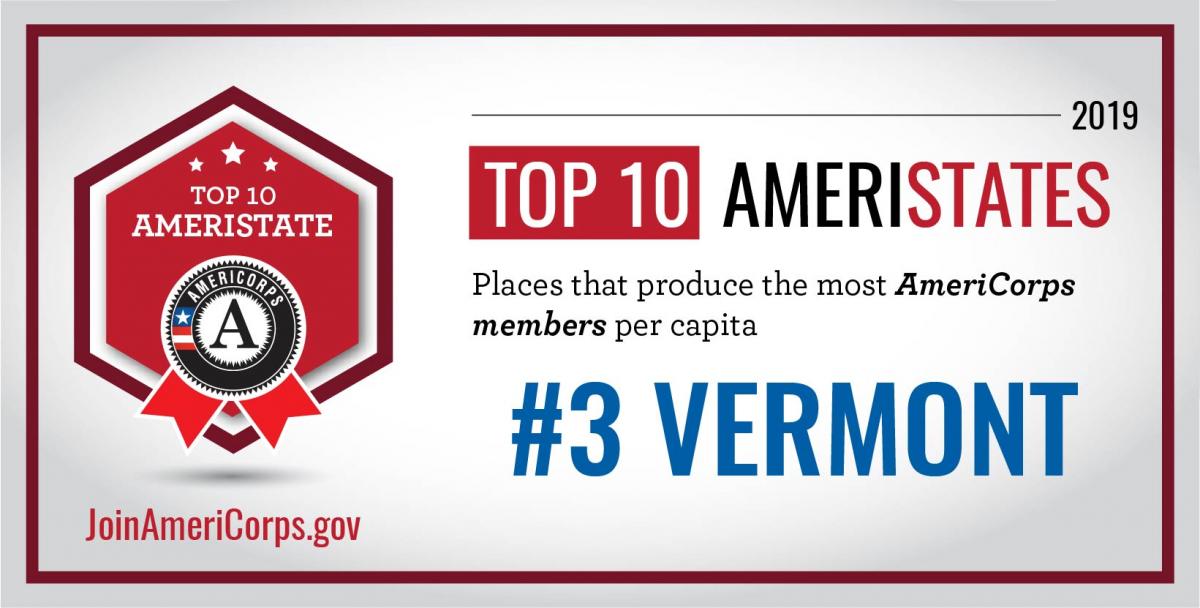 Next Commission Meeting
The next meeting of the SerVermont commission will be on March 16, 2020 from Noon - 4 PM. Out of an abundance of caution, we will hold this meeting as a virtual meeting due to the COVID-19 virus. All SerVermont meetings are open to the public, and the public is encouraged to attend virtually if interested. If you would like to attend the meeting virtually please let us know in advance by emailing philip.kolling@vermont.gov. We will provide you with log-in information so you can attend. Thank you for your understanding.
Vermont Ranked #3 AmeriState for Producing AmeriCorps Members 
SerVermont is excited that Vermont is ranked #3 for producing AmeriCorps members per capita. The rankings were determined by the Corporation for National and Community Service by associating the permanent address of AmeriCorps members to a US designated place and state, including the District of Columbia. For more information please visit the CNCS AmeriStates Page.