The Governor's Awards for Outstanding Community Service
SerVermont is now accepting nominations for the 2016 Governor's Service Awards! To make a nomination is easy, simply complete the fillable form and return it to SerVermont by September 9th, 2016. 
Governor's Service Awards Nomination Form - Use this form to make a nomination 
Governor's Service Awards Nomination Tips - Tips on writing a winning nomination
The Governor's Service Awards pay tribute to outstanding volunteers from across Vermont. These volunteers demonstate the power of giving and caring every day, making enormous impact in our communities. The awards honor individuals, groups, national service members and businesses that best exemplify the spirit of volunteerism and community service in Vermont. 
Awards are given out in the Fall each year. Nominations are accepted beginning in August and the deadline for nomination is in early September. Nomination materials and deadlines are availabe on this website beginning in August. Awards are available in the following categories:  K-12 Youth, K-12 Youth Volunteer Group, Adult, Lifetime Achievement Award, Family, Corporate, AmeriCorps State & National, AmeriCorps VISTA, Senior Companion, Foster Grandparents, RSVP, National Service Alumni, and Outstanding Contribution to Naitonal Service.
Awardees and their nominators are notified of such once the awards committee has made their decisions. An award ceremony is held in October at which all award reciepients are recognized.  The award ceremony is typically held at the same time as the National Service Launch.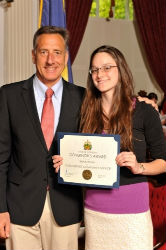 Governor's Service Award Recipients
2015 Governor's Service Awards
Lifetime Acheivement Award
Eric Scott Haskin
Outstanding Service by an Adult
Diane Peel
Outstanding Service by a Family
David and Bonita Bedard and Family
Outstanding Service by a Corporation
Key Bank
Outstanding Service by a National Service Participant
Kate Cahalane - AmeriCorps VISTA
Barbara DeCarlo- Senior Companions
Macy Margolin- AmeriCorps State
Kathryn Phillips- RSVP (Retired Senior Volunteer Program)
Outstanding Service by a K-12 Youth Volunteer
Matthew Allen
Rebeca Doucet
Alyssa Leonard
Shelby Loura
Merrick Marchesseault
Outstanding Service by a K-12 Youth Volunteer Group
The Forestry, Natural Resources, and Horticulture class at Stafford Technical Center
2014 Governor's Service Awards
Outstanding Service by an Adult
David Fenn
Cheryl McMahon
Outstanding Service by a Family
Jim and Jeannie Milne
Outstanding Service by a Volunteer Group
The Blue Star Mothers
Outstanding Service by a Corporation
Vermont Student Assistance Corporation
Dealer.com
Outstanding Service by a National Service Participant
Anna Houston- AmeriCorps VISTA
Katherine Mansfield- AmeriCorps State
Grace Saunders- Foster Grandparents