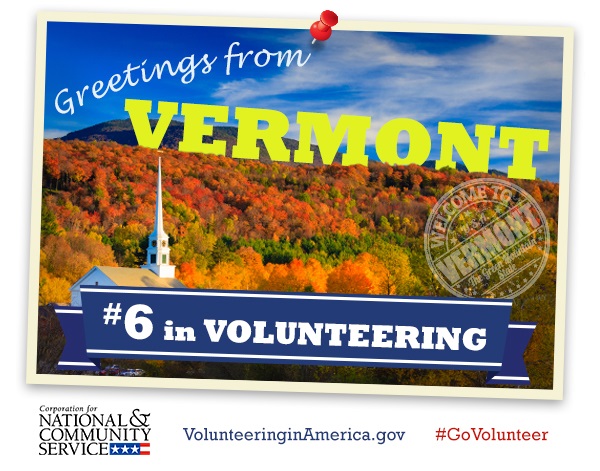 Dear Friends,
Vermont has a long history of service and volunteerism, and a strong national service presence. SerVermont is proud to be part of that legacy, and to continue and build upon that strong tradition of service.
Vermonters are being recognized for their volunteerism and service on a national scale.. From the  number of AmeriCorps and Peace Corps volunteers we produce to the percentage of Vermonters who volunteer, we have a lot going for ourselves.  In 2015 Vermont was  recognized as the #4 AmeriState for the number of AmeriCorps members we produce per capita. Vermont is also the #1 Peace Corps  producing state per capita.  Vermont continues to climb the ranks in terms of volunteer rates as well, having recently been recognized by the Corporation for National and Community Service as the #6 State for Volunteer Rate, up from being ranked #12 just a year earlier. To put it simply, lots of Vermonters volunteer, and lots of Vermonters serve in formal service programs. We have known that for a long time, and we now have the data and rankings to prove it!
SerVermont encourages everyone to serve. There is no amount of time that can't be put to valuable use through service. Vermont has many non-profits and community groups where our citizen's efforts can be put to tremendous use. Or, simply looking after a neighbor can make a huge difference in their day and their life. Whether you serve through national service, or simply help a neighbor, all Vermonters can make a difference in their community by serving.
Vermont has opportunities to serve through AmeriCorps and Senior Corps in all regions of the state, doing all types of important work. SerVermont  currently supports six AmeriCorps Programs and two AmeriCorps planning grants. For more information on those programs and planning grants, please visit our Programs Page. For more information on national service in Vermont, please visit Vermont's State Service Profile.
Currently, SerVermont is developing a new State Service Plan to guide us into the future. We are soliciting public comment on a draft of our 2016-2018 State Service Plan right now. Feedback on the plan from all Vermonters is important. If you would like to review the plan to see where we are headed, or comment on the plan, please visit our State Service Plan page.
In Service,
Phil Kolling
Executive Director, SerVermont